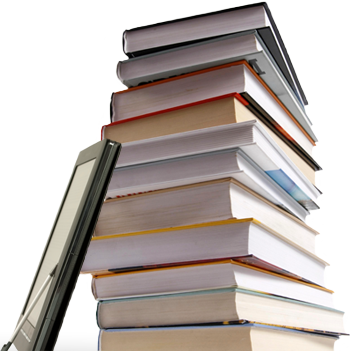 One of the biggest book debates that's out there right now is about printed books vs e-books. They both have their benefits, as do audiobooks, and it's more than likely that neither will ever win.
When you read an e-book, you are still getting the same story you get from reading a printed book, the content might be exactly the same (though, I notice a general lack of maps/images when I read things on my Kindle), and they both let you do the most important thing – read a book, but for all that, their differences can't be ignored.
I will always choose paper books over an e-book. I do have a Kindle which I only use for books sent to me to review (or as part of a giveaway), or if it's a book that's not easy to get in Canada without ordering it from the States or elsewhere. Some of the benefits I've recognized from it so far are:
It's light; easy to carry.
You can make notes and you can delete them later (not leaving permanent marks in books).
When travelling, it's more efficient than having your luggage space taken up by 3-4 books.
Lack of paper and ink means it's at least partially better for the environment.
Some of the newer ones have display lights, which means you don't have to worry about lighting.
I won't deny, the pros are good. Being able to carry a large amount of books at once is definitely handy, but there are just as many cons, if not more.
Even with e-ink, there's still the strain on your eyes that you get from looking at screens. (Granted, it's not as much as from your computer screen, but it's still there).
Relies on power, even though it takes a while to drain it is something you need to watch out for.
Scratches to the screen, dropping it and other damage can make it stop working, and cause you to lose your books (though, I think with Kindles, it is still backed up on Amazon, I believe.. Though you then have to buy another reader). — I won't mention water here, as water does affect both paper and e-readers; though you do lose more if you get your e-readers wet. You should avoid sand too with e-readers.
You're spending more to read. You have to spend $100+ on just the reader, then more for the books. (Though, some books are cheaper, it still adds up).
What happened to sharing books? Book-swaps and second-hand stores? Can't really buy used e-books.. Meaning people who have to rely on stores like Goodwill, BMV, and other used book stores won't have the opportunity to buy books that are being released in e-formats only.
Also.. Biggest pet-peeve, maybe this isn't the case with all e-readers, and just Kindle but.. What page am I on?
In the end, a book is a book no matter the format, and it's the content which should be used to define the book, not the form. However — I'm extremely biased, and will fight for the printed/physical book until the day I die.
One of my favorite book series is The Wheel of Time by Robert Jordan. I own it in both digital, and printed editions. Last summer I went to read it digitally while I was on a road trip. I found that it really just isn't the same experience. Even though it is the same book, exact same content, there's just something irreplaceable about holding the physical copy.
Tell me, when your favorite author is going on tour, and they're doing a signing near you.. Are you going to get them to sign a bookmark? A piece of paper? Unless you're going to get them to sign your Kindle/Kobo/other ereading device, it's just not something that can be done.
With the ereader, you lose the sentimentality of the printed works. The weight of each book, the crisp of the paper, the cracked spine, folded pages, the smell of old books — the smell of new books. The experience of waiting in a long line and getting the chance to meet the creators of the worlds we visit, to have them sign our books and leave a little note making it that much more special. The pictures, the cover and interior art which show us someone elses interpretation of the story. Having pages with your favorite passage memorized, and just the very act of turning the pages — until there's nothing left but the back cover.
When you go to someone's house, you don't get the chance to look through their bookshelf — jealously ogling over books that are hard to find, finding new books to eventually add to your own collection. You don't get to protectively watch over your first-edition of the Fellowship of the Ring or other classics with pride, or display your books at least some-what proudly when you have guests over. There's no running your finger down the spine of books when you're scrolling through the online book stores.
Perhaps I'm just a little strange, or 'too' into books.. But the physical/printed book is immortal. There's a sentimentality to them — stories, memories, and feelings that you just don't really get with electronic books. There's just no feeling to them. Maybe, in 50 years no one will care about the printed book; and it'll be thought of like an old tablet, or scrolls.. Something outdated and rarely thought of. But even after that, there's just so much more to paper books. Book shelves filled, stacks of books on the floor; some fallen over.. Opening a new book for the first time.. Receiving a book in the mail that you've been waiting to get for weeks.. Or reading a good, old worn book in front of a fire. They're comforting images, and that's not going to go away.
E-books may be considered the future, and perhaps they are. Technology is always advancing, always changing.. What's new and flashy today will be old tomorrow. In this endless cycle of new ideas and innovations, we live in a digital world. However, so long as there are people out there that love to turn the pages, books will never die.
Related articles