2012 is just a couple of days away, and with the new year comes new books.. Here's some great books to look forward to (in no particular order). I'm sure this list will be updated a bunch over the next few days, so keep on checking back — and please feel free to share what books you're looking forward to, and they'll be added to the list!
1) Wheel of Time book 14 – A Memory of Light by Brandon Sanderson and Robert Jordan
– The Eye of the World (book 1) was published back in 1990. 22 years later, the series is finally coming to a close. With the Last Battle between good and evil approaching; and  the end of an age, Rand, Mat, Perrin and the rest of the world must unite under a common goal and put their own wars and differences aside to fight the Dark One and the Forsaken, along with their hoards of evil creatures.
A Memory of Light is set to be released in Autumn 2012.
2) The Grigori Legacy book 2 – Sins of the Son by Linda Poitevin
–  Sins of the Angels was the first book I reviewed on here (that review can be found here). With Sins of the Sons, Poitevin continues the adventures of homicide detective Alexander Jarvis. Armaggedon on Earth is fast approaching; and as Alex tries to protect those she cares about; the conflict that arises may push the world into the very chaos they're trying to avoid.
Sins of the Sons is set to be released March 27th
3) The Lightbringer book 2 – The Blinding Knife by Brent Weeks
– Sequel to the Black Prism (my review for which can be found here)… No summary or description is available yet, this will be edited/updated ASAP. — I've read some of the excerpt he's made available though, and it's sure to be awesome.
The Blinding Knife is set to be released September 1st
4) Dark Eden by Chris Beckett 
– On the sunless planet of Eden in an enclosed valley, a family of 500 live; their two ancestors had been marooned there over a century ago. Living with the hope of returning to Earth one day, John Redlantern defies the Family's sacred traditions leads a group of followers across dark, frozen mountains in search of wider lands. With a cost of bloodshed, and division, the price may just be too high..
Dark Eden is set to be  released January 1st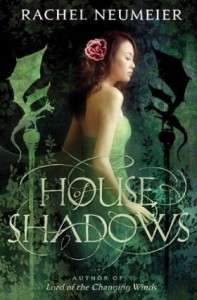 5) House of Shadows by Rachel Neumeier
– Two orphan sisters, sweet and innocent Karah, and Nemienne are in search for their fortunes. As they both start to settle into their new lives – Karah, secure in a glamorous Flower House, and Nemienne the apprentice to a mysterious magician – soon find themselves entangled in a plot threatening to upset their lives; and destroy their kingdom.
House of Shadows is set to be released July 10th
6)  Crusade book 3 – Vanquished by Nancy Holder and Debbie Viguié
–  War has come between the Cursed Ones and humanity. With humans laying down their fight; bedazzled by the glamorous vampires, the Cursed Ones have come to rule the night. Only small groups of humans (and the occasional werewolf, and witch) are fighting back. Jenn and the rest of the Hunters must band together and become stronger than ever to fight back — while Antonio and Heather must fight a battle of their own; a battle which may destroy them and the one they love and care about the most. (No summary has actually been released about Vanquished.)
Vanquished is set to be released August 28th
7) The Shadow Saga book 5 –  Shadows in Flight by Orson Scott Card

At the end of Shadow of the Giant, Bean flees to the stars with three of his children–the three who share the engineered genes that gave him both hyper-intelligence and a short, cruel physical life. The time dilation granted by the speed of their travel gives Earth's scientists generations to seek a cure, to no avail. In time, they are forgotten–a fading ansible signal speaking of events lost to Earth's history. But the Delphikis are about to make a discovery that will let them save themselves, and perhaps all of humanity in days to come.

For there in space before them lies a derelict Formic colony ship. Aboard it, they will find both death and wonders–the life support that is failing on their own ship, room to grow, and labs in which to explore their own genetic anomaly and the mysterious disease that killed the ship's colony. – From Amazon
Shadows in Flight is set to be released January 17th
8) The Wards of Faerie by Terry Brooks
– Set 100 years after The High Druid of Shannara trilogy; people of the Four Lands have become distrusting of magic after the failure of the Third Council. However, when a druid stumbles upon information on the lost elfstones of faerie, the Ard Rhys of Paranor must decide to undertake this mission to acquire them.
Others–
Demon Cycle book 3 – The Daylight War by Peter V. Brett
– I can't find an official release date, but I believe it's supposed to be published late 2012 (September-ish), though there have been some sites reporting February 2013. Either way; it should be a great read.
Humanity is fighting back. Although the night still belongs to the demons that arise as the sun sets, new wards and weapons are giving those willing to fight in the darkness a chance to retaliate against their core-spawned enemies.

But, as humanity is about to learn, not all monsters are confined to the dark.

Civil war ravages the north and south, battles fought between those who should be working together. It is up to Arlen – the Painted Man – and Jardir – the self-proclaimed Shar'Dama Ka, the Deliverer – to put aside their differences and bring their people to terms if they are to have any chance of saving their civilisation from demon-rule.
The Long Earth by Terry Pratchett and Stephen Baxter  – June 26th
-There really isn't a description or anything else available for this yet, except for a release date.. We'll just have to wait and see!
Dark Vegeance vol. 2 – Winter and Spring by Jeff Mariotte – May 1st
– While in most senses I've already read this (Witch Season Vol. 2 – Winter and Spring), I do enjoy a good re-read, and when it's a book that has been edited and had some changes made.. Well, the reread can be all the more enjoyable. Especially, since you get to try and remember and see what has been changed.
Winter – Kerry, no longer the trusting person she used to be, is back on her own searching for the witch Season to avenge Daniel. Now armed with magic and knowledge; she must figure out who she can trust.
Spring – The only one who can end the war; one who has discovered more than she could ever imagine, Kerry is faced with a task that will irrevocably change her life, and the lives of her friends, forever.
—————————————————————————————–
Am I missing any? What books are you looking forward to? Leave a comment!